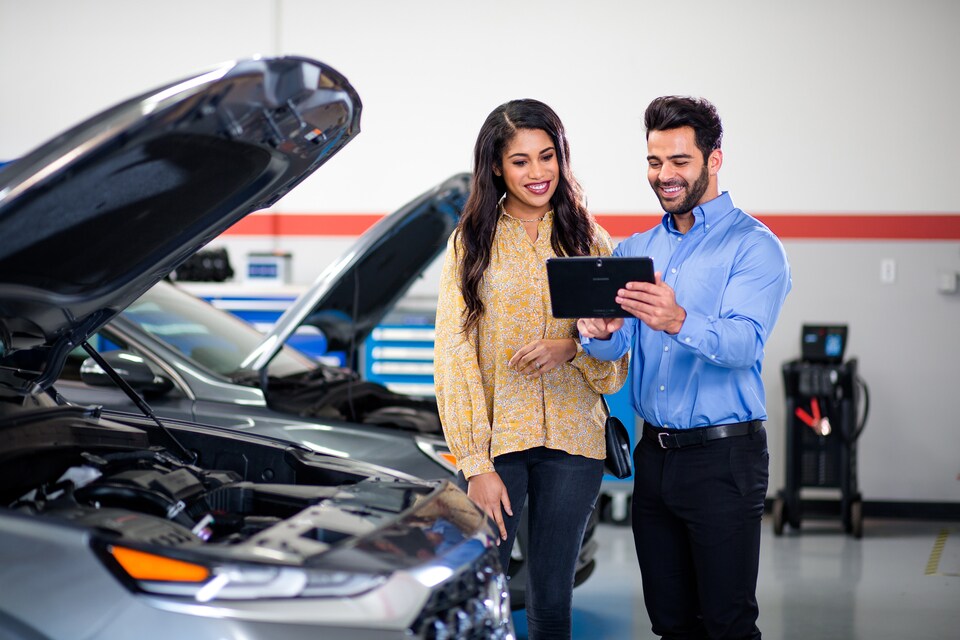 Be Mindful of Hyundai Service Intervals
You may not realize it as a proud, new owner. But all Hyundai models come with factory-suggested service intervals with which to mind. Earned mileage milestones being the reminder.
At Circle Hyundai, we wish to convey the importance of Hyundai service intervals. And in this effort, elevated will be your Hyundai Santa Fe performance throughout Middletown, NJ.
Hyundai Service Intervals - The Comprising Aspects Near Asbury Park, NJ
Your new Hyundai Santa Cruz is a confluence of designs and systems, parts and components. And with anything built, there will be a time when its best to ensure everything is in good working order.
Though, in most cases, securing a simple oil-change date may be hampered given busied lives near Shrewsbury, NJ.
And this is precisely why your Hyundai service intervals map out what's to be inspected and examined with certain mileage earned.
For a better understanding of those Hyundai service-interval milestones, look below for details:
15,000-Mile Hyundai Service
With your new Hyundai Tucson, there's not much that needs to be fixed at this stage. But with your first 15,000-miles earned, a change of oil and installation of new filters are best practice.
Going forward at every Hyundai service interval to come, the following should be performed outside Neptune, NJ:
Oil changes in which old oil is drained while replenished with fresh oil.
Cabin and engine air filters will be replaced.
Tires rotated and balanced help to mitigate abnormal wear.
Fluids topped off as necessary.
30,000-Mile Hyundai Service
At the 30,000-mile mark, several systems will require adjustment and inspection. This is predicated upon the wear of parts over time. Even seasons have some say in what should be examined in the following:
The inspection of brake pads and calipers is opportune at this mileage milestone near Tinton Falls, NJ.
Suspension and shock parts should be examined for anything amiss after 30,000-miles.
Fuel-filter inspections and replacement do much to promote vehicle well-being.
Transmission fluid should be clean for extending the life of your Hyundai Palisade transmission.
60,000-Mile Hyundai Service
Many of the same maintenance procedures performed at the 30,000-mile mark should be exacted at this new stage of Hyundai ownership. In effect, the more mileage accrued presents a perfect time to cover all systems gradually.
So, timed to 60,000-miles delivered, be sure to have the following undertaken outside West Long Branch, NJ:
An oil change and filter replacement are applied.
Battery testing and replacement is common for all Hyundai models at this mileage milestone.
Inspection of brake rotors will identify any issues with worn surfacing.
Engine hoses and belts will be inspected for loose fits and integrity.
90,000-Mile Hyundai Service
This Hyundai service interval may prove to be all-important. Several facets here will help to ensure that famed sense of Hyundai longevity is furthered. In fact, almost every system will need to be inspected at this stage.
And with the same aspects of the previous service intervals implemented, expect the following to take place near Red Bank, NJ:
A thorough inspection from end-to-end, top-to-bottom will be convened.
The checking of spark plugs with replacements as needed will do much to enhance engine performance.
All Hyundai safety technologies are to be inspected with 90,000-miles earned near Freehold, NJ.
Power-steering fluid flushing and replenishment is highly recommended at this time.
Circle Hyundai - Your Headquarters for Valuable, Hyundai Service Intervals Near Red Bank, NJ
Make your Hyundai service-interval appointment online or stop by our local, Shrewsbury-area service facility.
Then, leave everything to us while you wait.